June 2021 "Fiesta" Meeting & Luncheon
with Guest Speaker: Scott Presler
May 14, 2021 – General Meeting & Luncheon


First Ladies at "The Pearl" – May 7, 2021

Feb 2020 Meeting &

Valentine's Day

Luncheon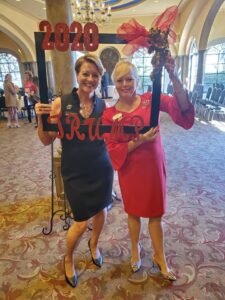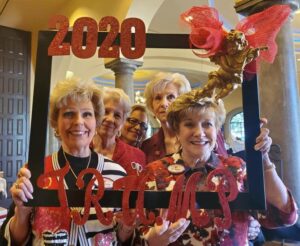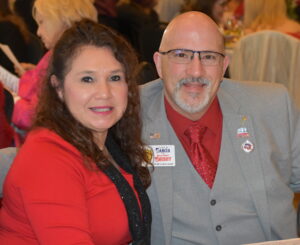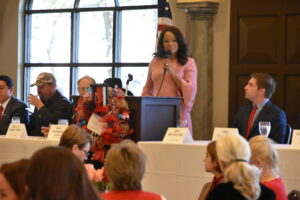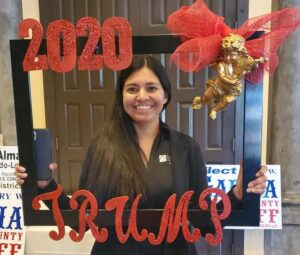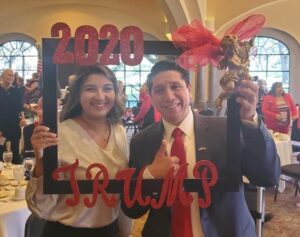 January's BCRW Book Club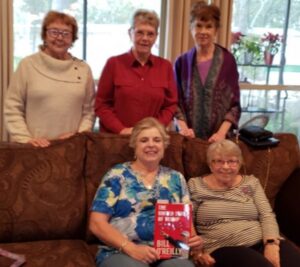 January 2020 Meeting & Luncheon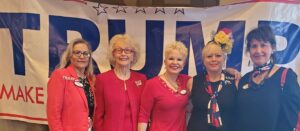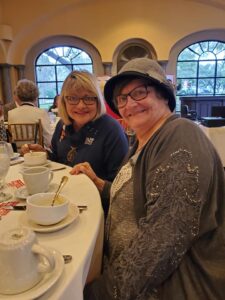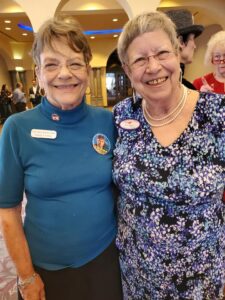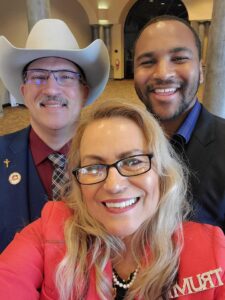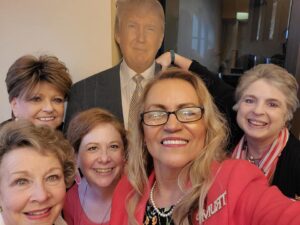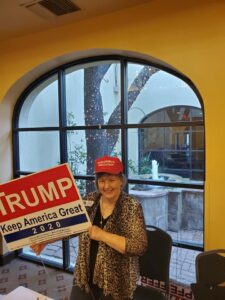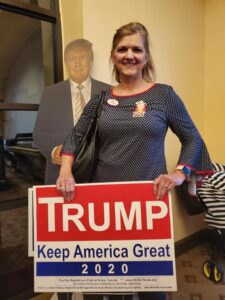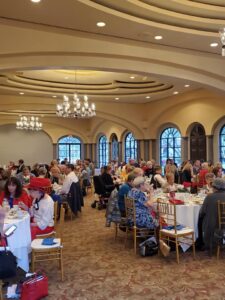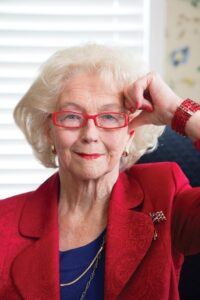 December 2019 Meeting & Luncheon
Christmas Party, Fur Fashion Show and Christmas Sweater Contest!

School Supplies Collected and Delivered!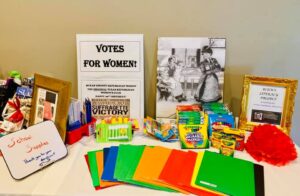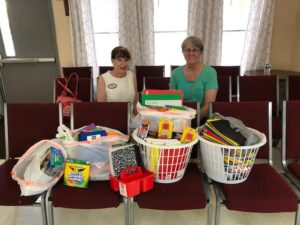 Elizabeth Hilburn delivers school supplies collected by BCRW
——————————
RED, WHITE & VIEW
2020

Trump Announcement Party!!
June 18, 2019 – Blanco BBQ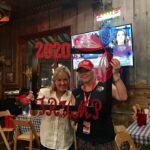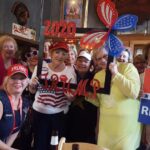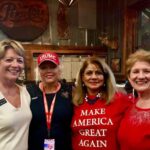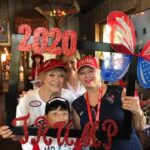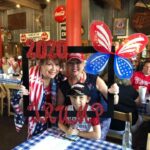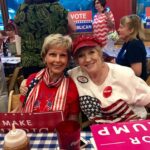 June 14, 2019 – Meeting Honoring Lamar Smith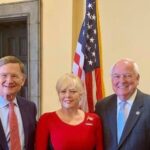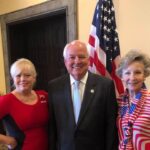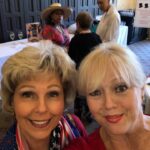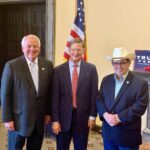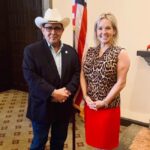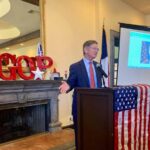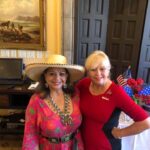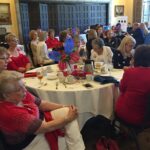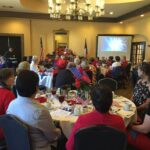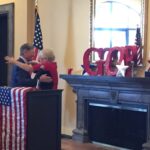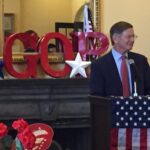 April 2019 Luncheon and Fiesta Hat Contest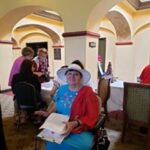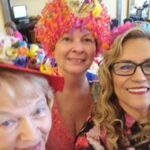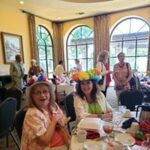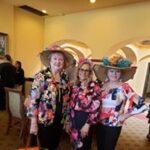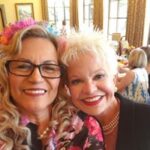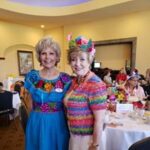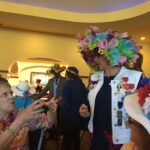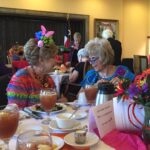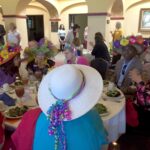 CONGRATULATIONS TO EISENHOWER SCHOLARSHIP RECIPIENT
AMBER NICOLE RAMOS

PICTURED WITH BCRW PRESIDENT CAROL VAN DE WALLE AND JUSTICE JASON PULLIAM
Let's meet Amber Nichole Ramos, Battalion Executive Officer of her ROTC unit at Harlandale High School. Amber's favorite subject in school is English. and has a 4.0 GPA. She has 2 sisters, ages 16 and 14, and a brother, age 13. Amber enjoys outdoor activities. She likes to hike, swim, and fish. To travel anywhere her choice would be Brazil., "It's different from anything in Texas." There are 2 dogs in the family ….a "weiner" dog named Bandit and a terrier named Cage. Texas A&M is her destination for college. She plans to major in Political Science with the objective of getting her degree, staying in ROTC, then getting her Master's. Her future career pattern will be to join the Navy as a 2nd Lt. and work toward a Law degree then a position in the JAG corps. Dwight David Eisenhower would be proud of her. She says "ROTC gives me discipline, structure, focus, leadership, and being ready to learn." Her position in ROTC puts her second in command making sure the staff members do their jobs, "I keep the companies in line." It is a very important position which her ROTC Officer says she does really well. BCRW is proud to present this young lady our scholarship. We look forward to meeting her soon. Amber is truly worthy of this and we can see her bright future. Gig 'em!
**********************
BCRW ATTENDS LEGISLATIVE DAY AT TEXAS STATE CAPITOL

**********************
WREATHS ACROSS AMERICA
Jayci Derby, creator of Jayci's Wreaths for Heroes (www.wreathsforheroes.org), poses in front of the 113 wreaths that Bexar County Republican Women Sponsored. The wreaths were placed on graves at Fort Sam Houston Cemetary. 17,568 wreaths were laid this year – look for our campaign to increase that number for Christmas 2015! It is a great way to Honor our Heroes and let everyone know we will never forget their sacrifices.
**********************
BCRW LITERACY PROJECT
Shirley Martinez, Vivian Brown, and Laurie Kabes, delivered over 120 dictionaries to a title one school in Judson ISD. (We plan on distributing the remaining to another school TBD)
The teachers, staff and children were so excited to receive their very own dictionary. For some children it is the first book they have owned.
These are very special dictionaries – not only do they have vocabulary, but they also include weights & measures, biographies on each State and biographies on each President from Washington to Obama. Our favorite part of the dictionary is the Declaration of Independence and Constitution.
The kids joined in as we read the Preamble to the Constitution. It was very exciting and heart warming to hear over 100 students give voice to this very important document.
BCRW

wants to give a special thanks to Kathi Bennet, Shirley Martinez, and Sue Solcher for donating directly to this literacy project. Kris Coons donated the book plates that were in each book with the BCRW logo.
When

the three of us left we were all on cloud nine. It was wonderful to see the kids enjoying their dictionaries. Next year we hope to bring this project to more schools. Stay tuned on how you can support the Dictionary Project…
* * * * * * * * * * * * * * * * * * * * * * * * * * * * * * *